Babies communicate via crying, it is a way of babies to deliver their message. Parents recognize their babies in a best way. Crying is normal for babies but in some cases if you experience babies crying excessively even if you have fed them well and changed their diapers too, this condition in generally an indication of problem in babies such as any gastric pain or colic, teething etc. In a given day, a colic baby cries for several hours and one of the root causes of this is colic. The condition is sometimes linked with gassiness. You can however soothe your baby in several ways; using gripe water is one of the best known methods to soothe the babies. In this article we will learn the benefits of gripe water for babies.
What is Gripe Water?
Colic babies cry for several hours and several over the counter medicines are available in the market to provide relief to babies if they are experiencing the colic symptoms. Gripe water is one of the products which are used to soothe the babies with colic. There are many brands of gripe water available but gripe water woodwards is most famous. It is a herbal product which is available in the form of liquid. Mixture of different herbs is there in the liquid and the aim is to provide relief from colic and gassiness of baby. Some main herbs used in the gripe water composition include the following:
Ginger
Chamomile
Fennel
Licorice
Cinnamon
Lemon balm
While being unable to pass the gases out most of the babies experience great stomach discomfort. Herbal gripe water is a remedy for colic babies and also soothes the babies while they are in teething pain and hiccups. You can give gripe water every night to sooth the babies. Gripe water for constipation can also be considered safer option.
Is Gripe Water a Safer Option for Babies?
Gripe waters are of different kinds, there are different formulas for making of gripe water, and some include a little alcohol and sugar in it which is confusing for parents. Sugar in gripe water can increase the risk of dental decay and also the feeding habits of babies are affected. In the selection of gripe water for babies the formula and ingredients are always important to consider. Also note the recommended gripe water dosage for the kids. Is gripe water safer for new borns? Gripe water for new born babies is free from chemicals and hence it is an ideal remedy for colic and gassiness.
Gripe Water Contents:
Most of the times, the gripe water contain mixture of herbs as mentioned above along with sugar for seasoning. You need to read the ingredients carefully before making the final choice. Some gripe waters come with sodium bicarbonate and peppermint. It is advised not to use sodium bicarbonate or baking soda for babies especially for longer time as it can greatly interfere with the natural level of pH in the stomach of your baby. In the same way, too much alkalinity can also make the colic even more intense. You should not use gripe water with ingredients such as dairies, gluten, vegetable carbon or parabens etc. Since the digestive tract of babies is very sensitive especially in the neonates or babies under one month of age hence the use of such products is not considered safe.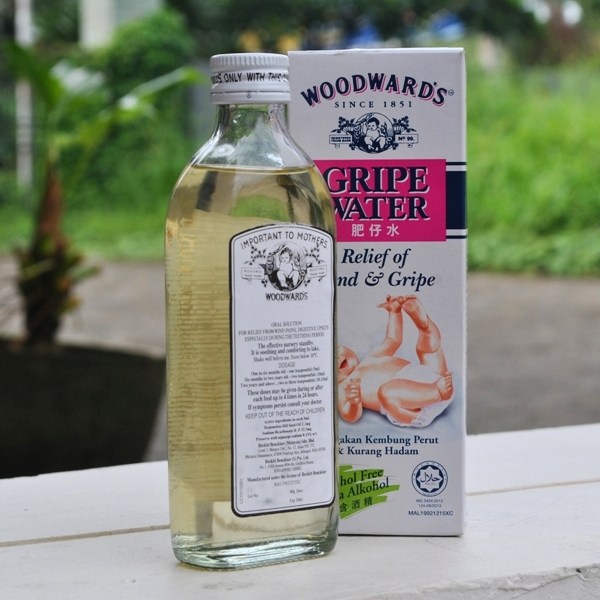 How to Use Gripe water?
As studied above, read the instructions carefully on the label and give the recommended dosage to the babies. The colic babies experience wave like pains which are more severe after feeding. This is why giving the gripe water after every feed can keep the baby calm as gas pains are avoided.
The taste of gripe water is often pleasant for babies and hence they easily take the dose. Some parents also mix gripe water with breast or formula milk which is also safe though for immediate and best result, you need to give your baby pure gripe water in the recommended dose.
Benefits of Gripe Water for babies:
There are several gripe water benefits for crying babies with mild to intense colic. Following key benefits are there which can be achieved by using gripe water:
Gripe water can help to treat the acid reflux since it contains sodium bicarbonate in it.
It also provides treatment for the trapped gases which cause discomfort and pain in kids
Gripe water can also be given during the time of teething to soothe the babies
It helps the babies to sleep well
Using gripe water is an efficient old technique to treat colic.
Side Effects of Gripe Water:
There are several beneficial aspects of gripe water but gripe water safety is generally under discussion. Since there are several herbs used in the preparation, some ingredients can result in allergic reactions in kids. If you experience the following conditions after the dose of gripe water, it might be an indication of allergic reactions inside the body.
The allergic reactions after giving gripe water include:
Watery and reddish eyes
Hives
Swelling in certain parts of face especially lips and tongue
Vomiting and itchy red patches on the skin
Change in the pattern of breathing
These all are allergic reactions and you need to consult pediatrician for further supervision.
Bottom line:
When the babies cry excessively it is always a distressing situation for parents. The root cause of crying in children is colic which typically improves by age of 3-4 months. Gripe water has many benefits such as treatment of colic and trapped gases; it has soothing effect on babies while they are at the phase of teething. Gripe water contains several herbs and is therefore safer to be used however, if there is some allergic reaction you need to consult your health care provider.
Read this Article : Amlodipine Side Effects & Uses